Oxygen

Patients combating with severe airway obstructions, home oxygen therapy is often the only resort. In certain conditions like Tissue Hypoxia, oxygen therapy facilitates crucial respiratory support as health experts try to get the system back on track. During all medical emergencies, it is extremely important to administer the right treatment at the right time. And it's during such times you need a specialty medical supplier you can bank on for the right medical equipment. This is where AM PM Medical Supply steps in. The company specializes in medical equipment, including home oxygen equipment such as oxygen concentrators; and works round the clock to ensure patients and their families breathe easy.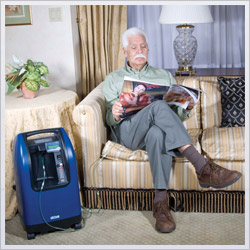 The company has a strong inventory to support hospitals, nursing homes, homecare companies, Dialysis clinics and rehabilitation centers. For private individuals requiring home oxygen therapy, the company has been a steady companion, seeing families face up to medical ordeals and facilitating the treatment of critical conditions. AM PM Medical Supply of Brookline MA understands the importance of providing only the best medical equipment to its patients. This is why the company only includes in its line-up equipment that has undergone a rigorous quality control process. The company's home oxygen therapy systems come with an assurance of high-quality and efficient customer care – be it on new equipment or a used unit.
Considering prolonged home oxygen therapy comes tagged with a cost, the company has several affordable options in the form of perfectly reconditioned/rebuilt oxygen units – another reason why so many families have made the company their choice for supplying oxygen concentrators. The company's trusted oxygen units are also available for rental short or long term. So as they say, there's a solution for every requirement and you can find it just outside of Boston in Brookline Massachusetts.
AM PM Medical Supply is known for providing highly-efficient oxygen concentrators. And these come packed with the latest technology to ensure effective oxygen supply to patients in strict conformation to the medical standards and safety measures. The company is equipped with a team of service specialists who are equipped to handle various oxygen concentrators, Invacare and Repironics. While choosing a home oxygen concentrator supplier, it's important to consider the following:
The equipment provided should not be very heavy
- It should be power efficient
- It should be easy to maintain
- It should be affordable
- It should be backed by high-quality customer care and support
AM PM Medical Supply acknowledges these criteria and provides only highly-effective oxygen concentrators for rent and sale.
Oxygen in the Boston area
When it comes to home oxygen equipment, portability is one factor that most families take into consideration. Portable oxygen tanks on hand will allow you to travel anywhere even to locations without power. They are highly portable and ensure patients can take oxygen with them on the go. AM PM Medical Supply has an array of oxygen tanks for sale.
Traveling with an oxygen concentrator in Massachusetts
While most home oxygen concentrators are portable they are so in the sense of that they can be easily moved to a new location. However, if you are looking for portability in the sense of taking your oxygen to the store we suggest you consider the affordability of small portable tanks verse the expense of a small portable oxygen concentrator. Portable oxygen often comes in handy for use during travel. AM PM Medical Supply offers a range of travel oxygen tanks from leading manufacturers for sale as well as rent. Once you have the required medical prescription, all you need to do is decide on whether to buy new or go for used, or even rent an oxygen tank. The company ensures each unit that reaches you has been checked for quality and will stand in good stead. It is usual practice to rent oxygen tanks during travel. What you do need to keep in mind is to choose a supplier that not only has the best-known equipment in the industry but also comes with a prompt and efficient customer care backbone. AM-PM also offers to refill oxygen tanks when needed.
Home oxygen concentrator
AM PM Medical Supply also has a variety of home oxygen delivery systems to meet patients' needs. Unlike traditional tethered oxygen settings, the latest technology home oxygen concentrators do not require patients to be under compulsive house arrest. Individuals requiring home oxygen therapy can have active lives as they have the assurance of high-quality oxygen units constantly by their side without the bother of being tied to a bulky cylinder or machine. While choosing home oxygen equipment, it's extremely important to ensure the kit you are using is safe, which is why it becomes even more important to choose an oxygen provider that offers only the very best solutions in home oxygen therapy. With efficient customer care, only high-quality home oxygen equipment in its line-up, and emphasis on safety and well-being, AM PM Medical Supply of Brookline MA, ensures you will not run out of breath.