BiPAP

We understand how irritating and how frustrating sleep apnea can be. And that is precisely why we at AM-PM Medical Supply care about providing you with the best of BiPAP technology and accessories. Providing the best quality customer services in such technology, we take pride in putting the patients' health before our profit.
Ventilation BiPAP Machines
Have you been woken up from sleep due to lack of breath? Do you frequently feel breathless? Do you belong to a hospital program looking at better ventilation system for patients? We have BiPAP breathing machines for all such cases. Choose from our range of ventilation BiPAPs to get a BiPAP ventilator that suits your requirements.
If you are looking for something to relieve sleep apnea, you can try one of our sleep apnea BiPAP. If however you frequently suffer from breathing disorders, we recommend that you try our portable BiPAP machines. These are easy to carry and handy for chronic patients. On the other hand, if you are looking at something for your hospital, then our ventilation BiPAPs could be a good option for you. With us you get the best brands to choose from and the best after sales service in the area. In fact, we at AM-PM Medical Supplies take pride in the fact that we provide the best customer service because we understand the responsibility of selling a machine as important as BiPAP ventilators.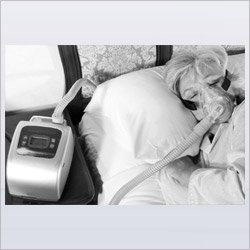 BiPAP Equipment Massachusetts
At AM-PM Medical Supplies, we bring you all BiPAP technology and allied BiPAP equipment in all possible varieties. The BiPAP machines for sale include Respironics BiPAP machines. We also have used BiPAP machines for sale. Between the two categories, we have BiPAPs by manufacturers as Respironics and Resmed. Also, the range of BiPAP models we deal in include the BiPAP Plus M Series, ST Machine and BiPAP Vision. Respironics being one of the most trusted brands provide a larger variety of products like the Respironics BiPAP Auto M Series, Auto SV Advanced, the M series and the Plus M series. Respironics also besides these and the Respironics BiPAP ST and Vision, have makes like BiPAP Pro 2 and Synchrony. So if you are looking to choose from a variety, there is no better store in Brighton, MA, than us. And if you are a beginner to such buys, our team of professionals will guide you to choose the BiPAP machine best suited for your needs.
We at AM-PM, provide all kinds of supplies for BiPAP accessories. These include BiPAP supplies like nasal BiPAP and BiPAP filters. BiPAP full face masks also can be chosen. In fact, even in case of face masks, we make sure to store the best quality BiPAP masks such as the Respironics BiPAP masks. With our supplies also, like in the case of machinery and equipment, we drive at customer satisfaction and providing the customers with the best quality after sales services. Also we provide filters and tubing for BiPAP machines.
We at AM-PM Medical Supplies, understand how painful breathlessness can become and how important health is in particular. So we always place the woes of our customers about their machines and equipment above our profits. Don't believe us? Ask the any hospital in and around Boston and you will be convinced.